When you live in a small house or apartment, it can be difficult to maximize your available space. Sometimes it may seem like there just isn't enough room for all your belongings. If so, you might want to think about decluttering some of your items. However, even after decluttering, you may find that you still need creative storage solutions.
A great way to maximize space in a small area is to use unique shelves. According to Lake Homes Realty, shelving is necessary for staying organized when you live in a cramped home. Whether you choose to hang your shelves on the wall or sit them on the floor, these units will create more storage solutions while adding to the overall look of your home. In addition, they can also make small rooms appear much larger.
If you want to get inspiration from shelving, below are 25 unique and highly functional designs for you to choose from.
1. Use a bookcase as a room divider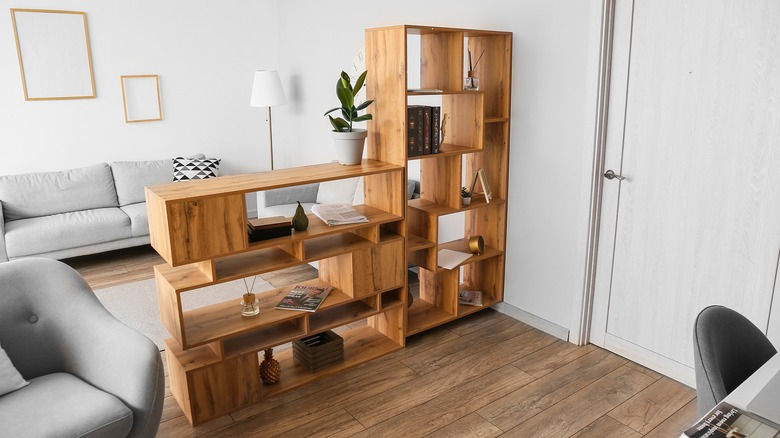 Pixel-Shot/Shutterstock
If you have limited wall space, try placing a bookcase in the middle of a room to divide it into several sections. It could make an open floor plan or a studio more comfortable and welcoming.
2. Choose an asymmetrical design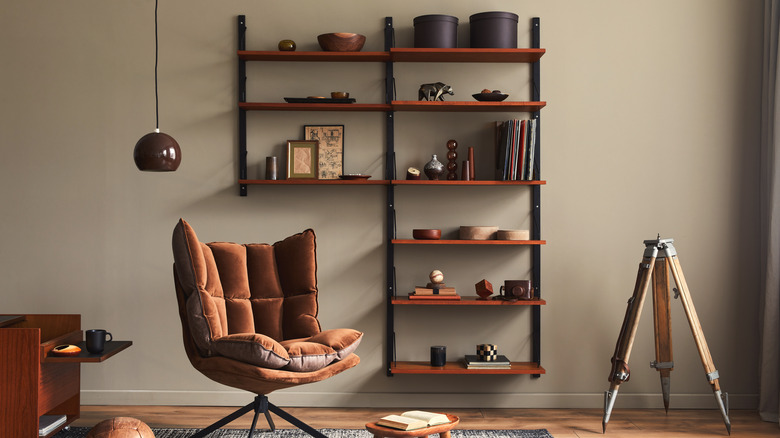 FollowtheStream/Shutterstock
A unique shelving option you can choose is one with an asymmetrical design, where one side has more shelves than the other. If you have limited wall space, this could be a great solution.
3. Install a hanging bookcase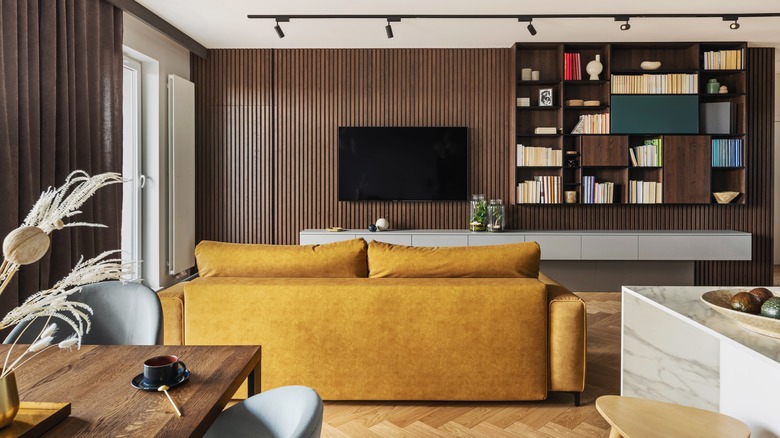 FollowtheStream/Shutterstock
Another way to save space is to hang a bookcase on the wall. This will allow you to place another piece of furniture underneath.
4. Decide on a unique style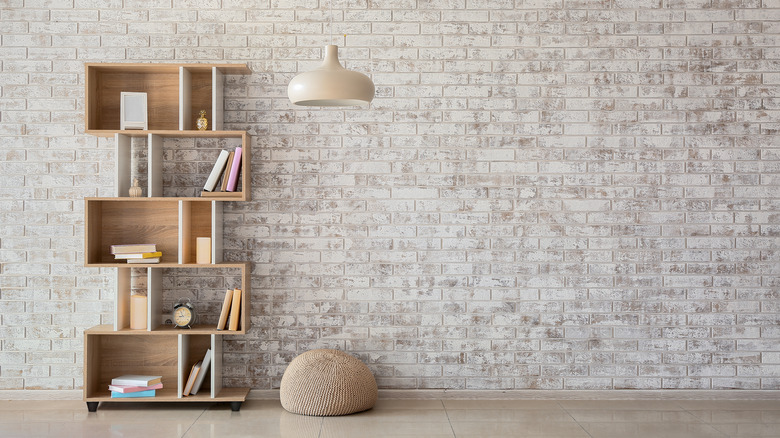 Pixel-Shot/Shutterstock
If you want something more unique, choose a shelf with an interesting style. It could become a standout feature in your space while also acting as a functional shelf.
5. Include diamond pattern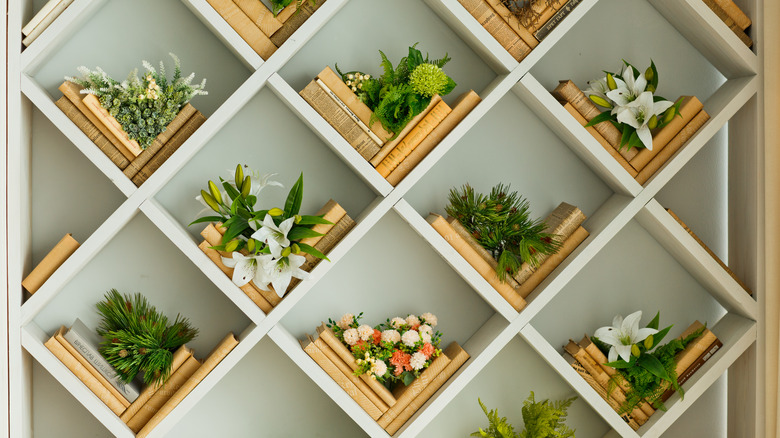 Tatiana Gekman/Shutterstock
A shelf with diamond compartments can be placed on the floor or hung on the wall. Ideal for storing books, these shelves could also store plants or other knick-knacks.
6. Add stair shelves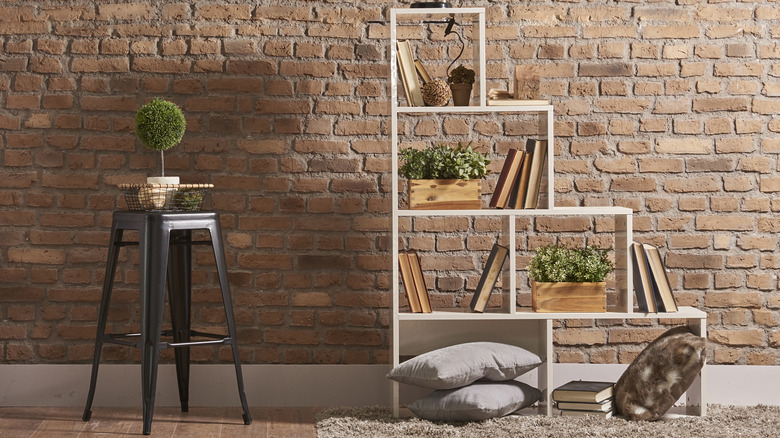 united photo studio / Shutterstock
Another quirky design is a shelf that looks like stairs. If your space is limited, this design can be placed in a corner or used as a side table.
7. Install Shelves Under Cabinets
Iren_Geo/Shutterstock
To add more storage space in the kitchen, install a shelf under your cabinets. This will give you the perfect mix of closed and open storage.
8. Put shelves on each side of the fireplace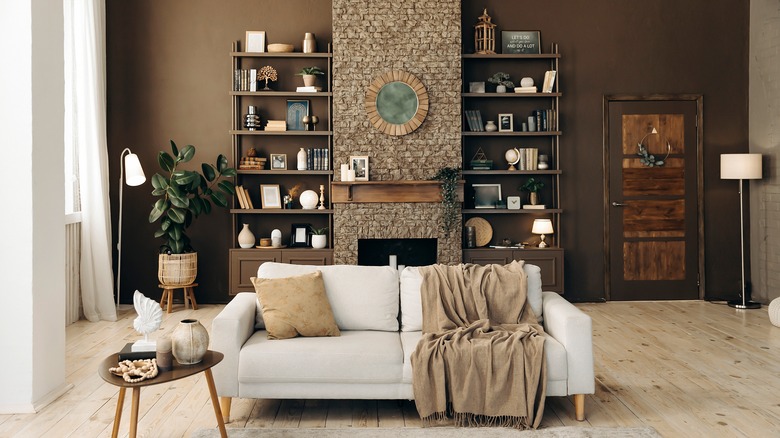 Sheremetio/Shutterstock
Placing bookcases on either side of your fireplace will give your home a symmetrical appearance and allow you to maximize vertical space.
9. Place in the corner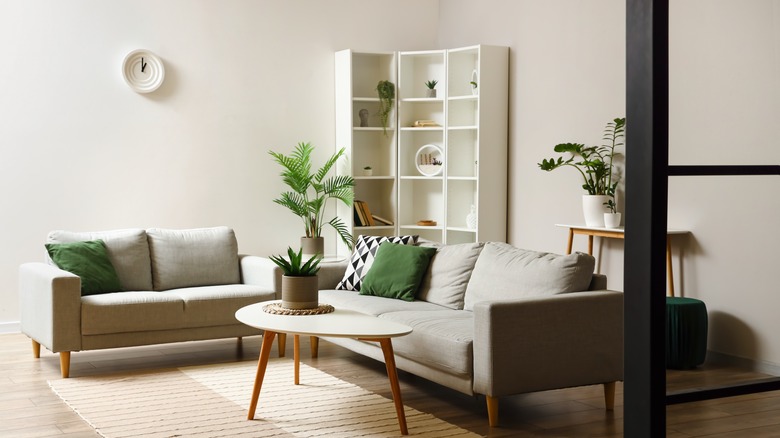 Pixel-Shot/Shutterstock
You can also add a large bookcase (or several) in the corner. It is a great solution for those with limited wall space.
10. Add Floating Shelves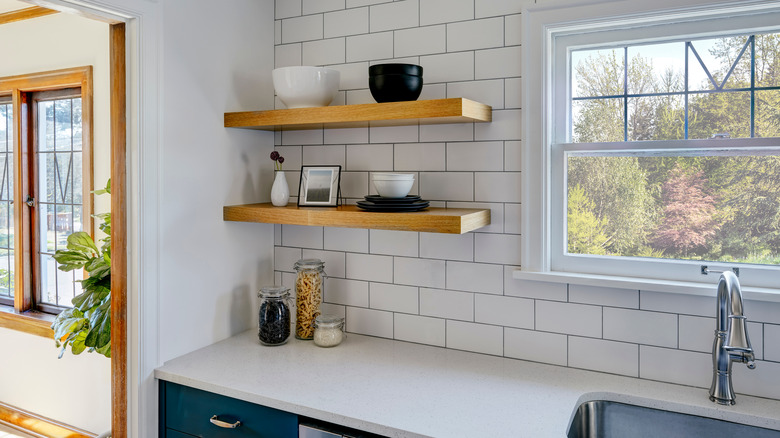 David Papazian/Shutterstock
Floating shelves save space because they usually don't have bulky hardware and can be placed anywhere in the house.
11. Choose shelves with hooks underneath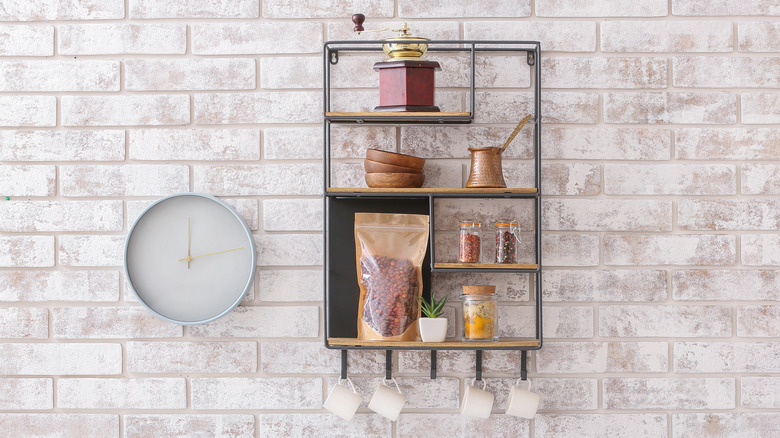 Pixel-Shot/Shutterstock
To maximize the functionality of your floating shelf, choose one with hooks at the bottom. This will allow you to hang things like mugs, towels, keys, etc.
12. Cover a wall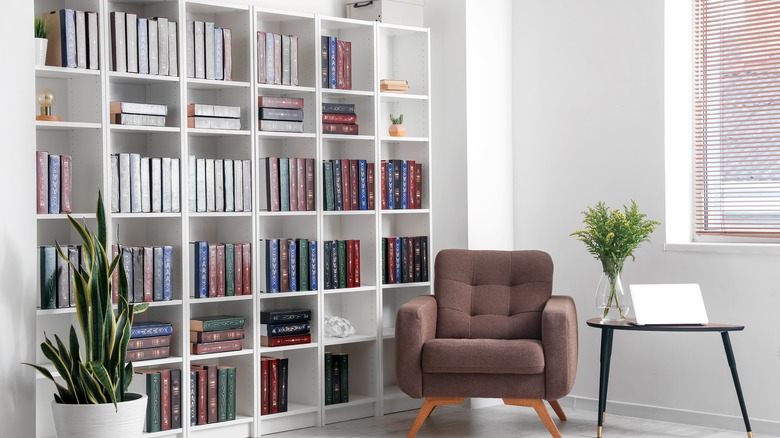 Pixel-Shot/Shutterstock
A shelf could also be placed along an entire blank wall. Maybe you have an empty wall in the hallway that you could cover with a large shelf.
13. Stack Triangle Shelves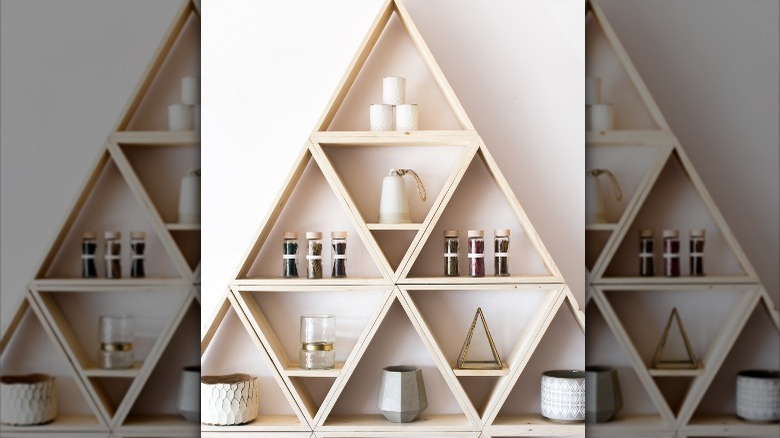 Fluff Media/Shutterstock
To really make your shelf stand out, you can create a pyramid design with several triangular shelves. It can be placed on the floor or hung on the wall.
14. Mix closed shelving with open shelving
New Africa/Shutterstock
To maximize your storage space, choose a cabinet that has both closed and open shelves. This will allow you to store unsightly items behind closed doors and showcase your most aesthetically pleasing items.
15. Include Built-In Shelves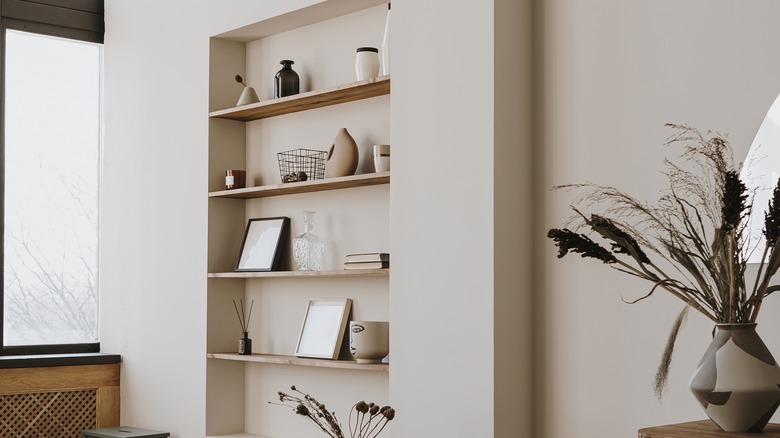 Floral decoration/Shutterstock
If you have a wall with a recess and you don't know what to do with it, add floating shelves. They will look more intentional in your room design.
16. Position near the door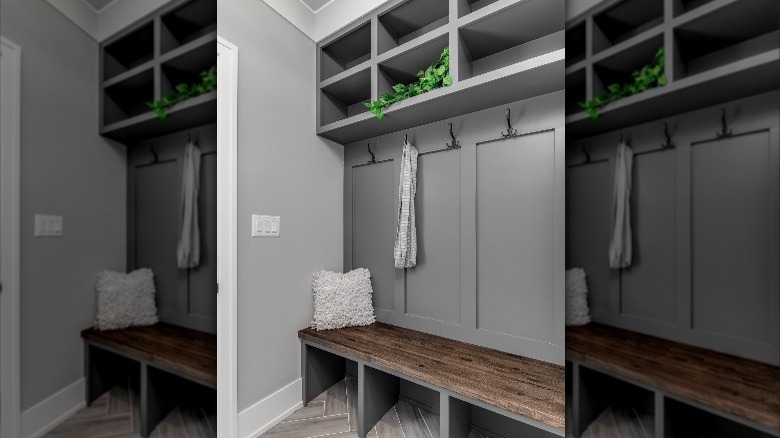 Hendrickson Photography/Shutterstock
To add more storage space to your entryway or mudroom, include a bench with cubbies or shelves. This will give you more space to store outerwear, mail and other items.
17. Lean a ladder shelf against the wall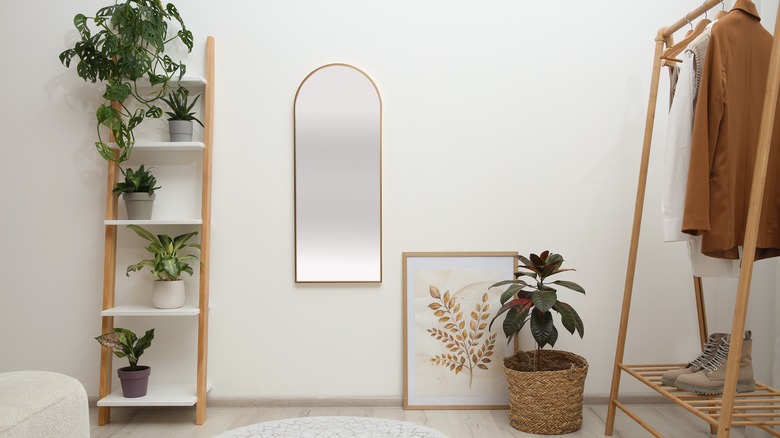 New Africa/Shutterstock
Ladder shelves are great space-saving solutions, as they are usually tall and thin, which means they won't take up much space.
18. Choose one with an interesting style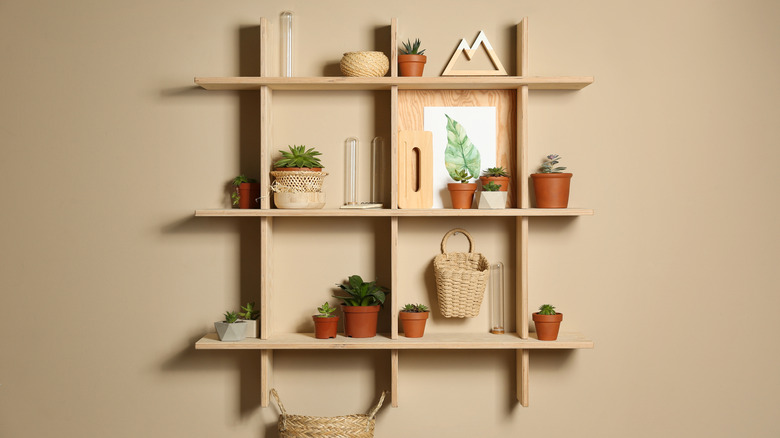 New Africa/Shutterstock
The grid style shelf above is very unique and can be placed anywhere in the house. This shelf will not only create more storage, but will also act as a fun art piece.
19. Put it above your desk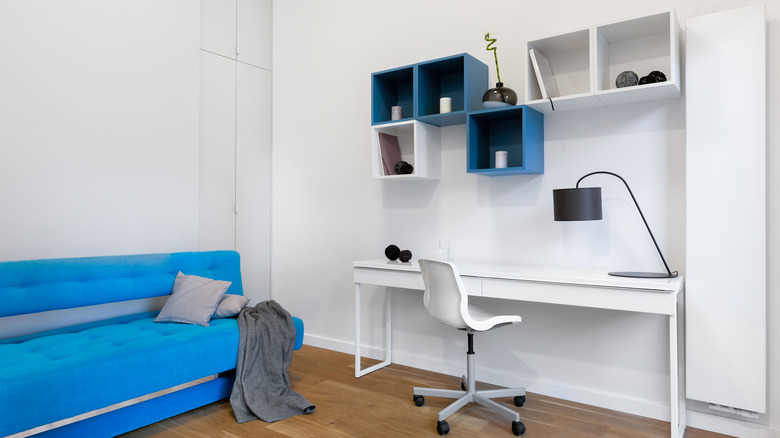 Dariusz Jarzabek/Shutterstock
A great place to add shelving is above a desk. Office spaces almost always need more storage, and placing the shelves above your desk will save you wall and floor space.
20. Save space with a tall design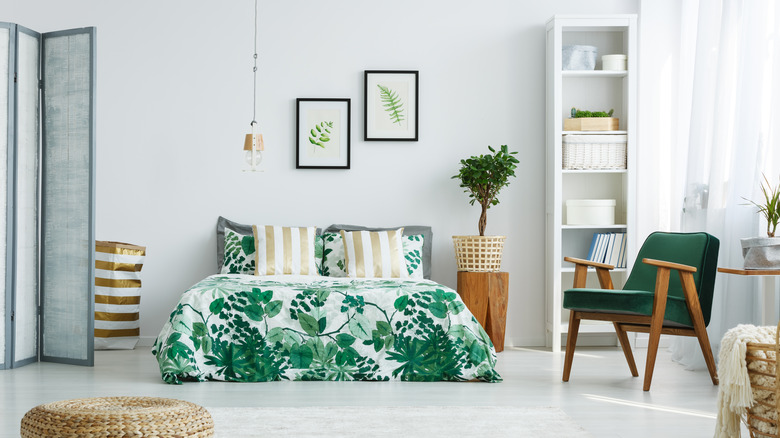 Ground Photo/Shutterstock
Choosing a tall, thin bookcase will create plenty of storage without taking up too much wall space. These could easily be placed in the corner of any room.
21. Position in the bathroom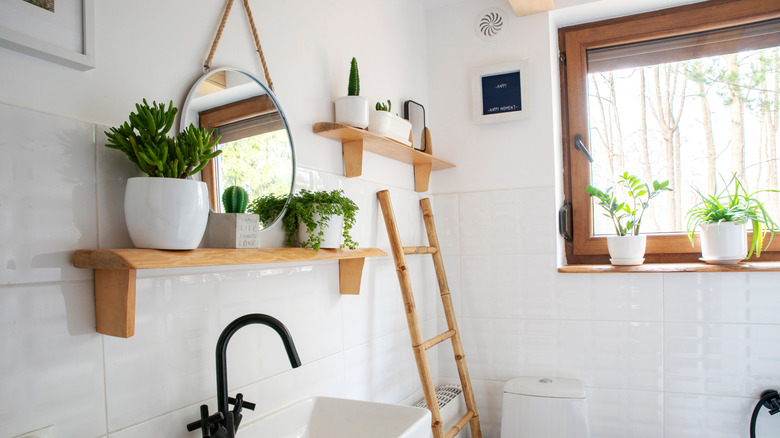 liloon/Shutterstock
To add more bathroom storage, add a floating shelf above your sink or toilet. While they're a great place to add decorative items, these shelves can also hold things like toilet paper rolls, cotton balls, and cotton swabs.
22. Use in the laundry room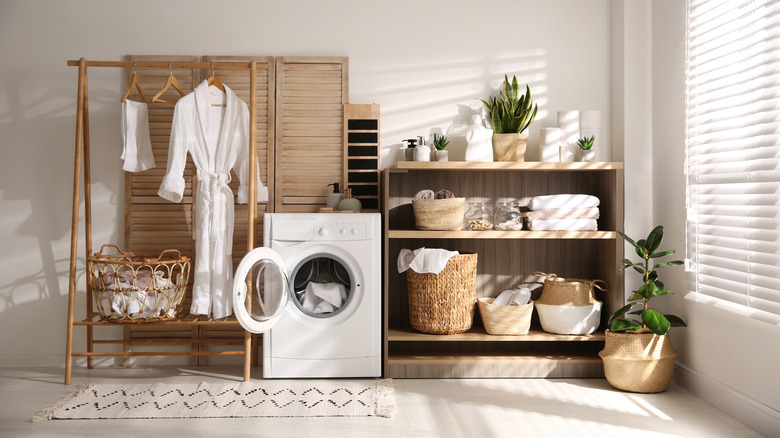 New Africa/Shutterstock
Another place in the house that almost always needs more storage is the laundry room. Place a small shelf next to your washer and dryer.
23. Choose one with soft arches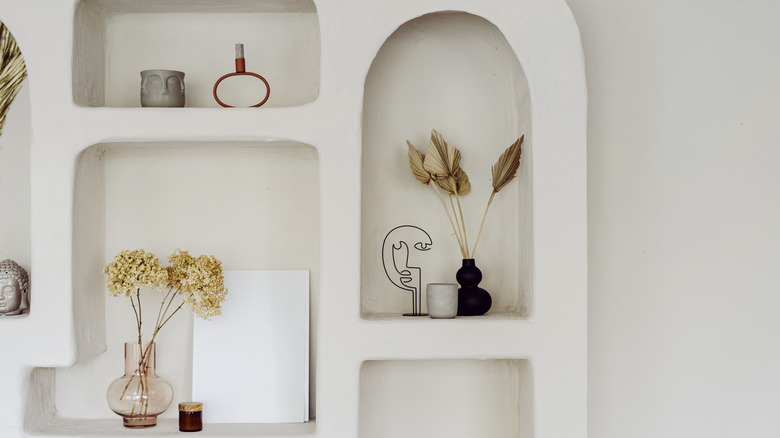 brizmaker/Shutterstock
To combine aesthetics and utility, choose a unique design that suits your taste. For example, the bookcase above has a fun archway that adds personality without taking away functionality.
24. Include a Low Shelf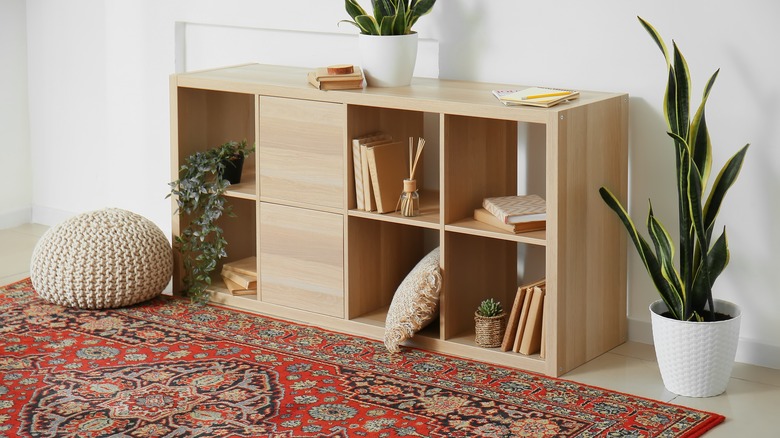 Pixel-Shot/Shutterstock
A low design will allow you to use more of your vertical space for wall decorations. You can also mount a TV or add extra shelves above a low cabinet.
25. Choose one with glass doors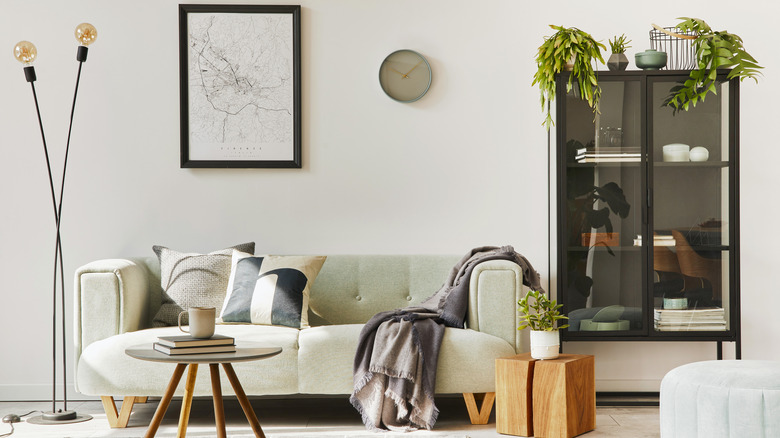 FollowtheStream/Shutterstock
For those with curious pets or young children, a shelving unit with glass doors may make the most sense. While being both interesting and functional, this style will also keep your family (and your belongings) safe.