When we talk about artists, what we're really talking about is their vision and their way of seeing the world. For Johnny Fly, the Charlotte-based lifestyle brand, reliable eyewear is the key to unlocking unseen sights, right after a deep-rooted desire for adventure. The company treats practicality with elevated luxury, providing a range of multi-faceted sunglasses, prescription lenses and leather goods that have artistic utility. The optical weavers behind Johnny Fly excel in classic creative designs, and with new collections regularly presented as an exhibition, the difference lies in their panache for subtle periods of self-expression.
When Johnny Fly took off in 2012, he entered the notorious context of Charlotte's avant-garde markets which, to some, may seem cold and transactional, but were a perfect match for the sharp and refined approach of the eyewear brand. The reality is that Charlotte is much more than a hotbed of financial mobility, and Johnny Fly has found a home in the city's supportive creative communities. John Freeman, founder of Johnny Fly, sought a renaissance in eyewear design that could unite function and fashion to create something truly dynamic in nature. Comparatively, many eyewear markets offer one or the other; noisy creativity or hollow professionalism. Finding the right pair of frames that reflect your inner light without going out of fashion can be difficult, which is why Freeman turned to tech-focused lenses that last a lifetime.
"Classic has always been my thing," Freeman said. "We never chase fast fashion, because we want to create classic shapes that you can wear ten years later and beyond."
Many of Johnny Fly's silhouettes are instantly recognizable, from their LaForge aviators to the striking wireframe images of Riker. These are shapes we've come to know over the years as standout pieces, popularized by the likes of Tom Cruise in "Top Gun" and other familiar faces. With Johnny Fly, these classic shapes take these classic shapes one step further in the name of quality and durability, constructed with laminated wood materials that are as unique as the person wearing them. At its core, Johnny Fly represents a lifestyle and offers a product that is built to last, starting with choice materials and innovative takes on classic shapes.
"By nature, we're very tech-driven," Freeman said. "We do a lot of research on what others are experiencing in places like Europe or Japan and put our spin on it."
The Johnny Fly treatment includes a double dose of durability, flexibility and the latest in optical anatomy. Currently, that means nylon for the lenses. The brand's newest collection of 2022, named "Cosmic Collection", incorporates nylon into the design of four celestial mounts that exert a strong gravitational pull. Polarized nylon is a unique material when applied to sunglasses, as nylon is a lighter alternative to conventional designs. Because of this, nylon is more durable and reduces carbon footprint, sewing a clean design into its existing flexible, BPA-free makeup. The "Cosmic Collection" also demonstrates the brand's use of Italian acetate, which is a strong material for framing.

Part of the appeal of a Johnny Fly piece is that it works well for any decor. Charlotte's professional circuits are an obvious pair, but the city's thriving craft networks also deserve such expertise. In 2017, Johnny Fly opened its flagship store, located in the posh NoDa enclave of downtown Charlotte. The retail breakthrough was met with explosive enthusiasm and support from local makers and artists, each of whom offered a unique perspective from which to grow and learn.
"It was a major turning point for the brand," Freeman said. "I thought it would be a humble place for people to drop by, but it quickly turned into a full retail platform."
Freeman didn't expect so much hype by opening a kind of gallery, where consumers could interact with the executives themselves, smell the leather and see what Johnny Fly is all about. The flagship store became the brand's beating heart and provided a space where Freeman could listen to what consumers wanted and learn from other areas of expertise. It turns out that Charlotte craves functional fashion that empowers her communities to work hard, play harder, and look good while doing it.
"[Charlotte] It's a good melting pot of people from everywhere," Freeman said. "By developing a brand, it gives you a taste of everyone's wants and needs, so artistically speaking we have a very progressive community with different perspectives."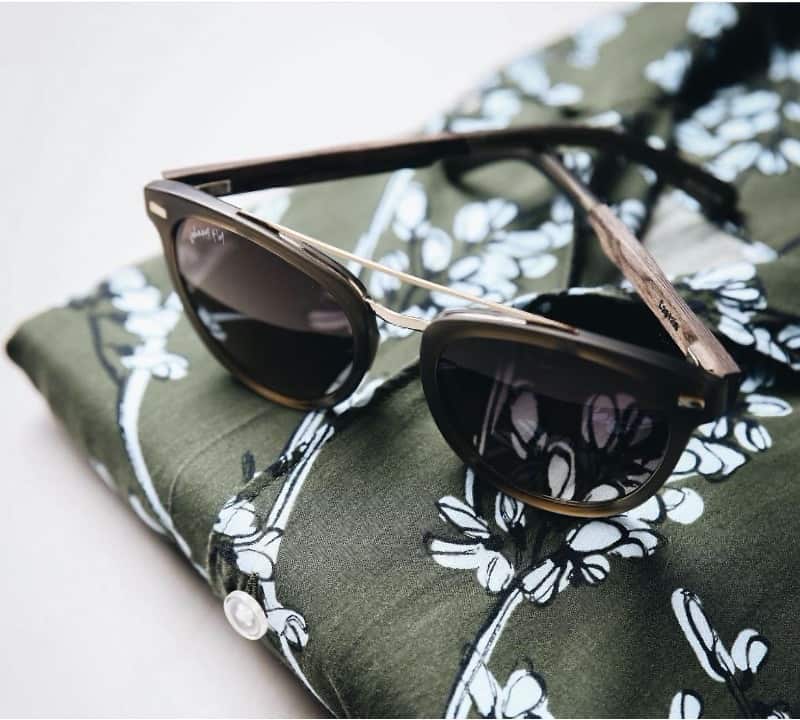 Johnny Fly also maintains a second retail outpost in Cornelius, just a few hundred yards from the shores of Lake Norman. Their retail expansion has proven successful on both accounts, and Freeman said the brand's next chapter will focus primarily on expanding their retail power.
"We came here at the right time, and it's incredibly supportive in the small business sector," he said.
Johnny Fly's frames retain a subtle elegance that needs no introduction. Their approach to fashion and optical function crosses traditional thresholds and positions the brand as a lifestyle that allows time for fuller experiences. In Charlotte, Johnny Fly is undoubtedly a big fish in a small pond, but nationally their distinct style takes gold for longevity in much bigger bodies of water. Whether we're sporting a new frame for eye clarity or added finesse, Johnny Fly's quality is unmatched in style and shapely chic. You just have to see the difference for yourself.
Presented by: Ascend Agency